Education Consultant cum Marketing Executive
ASA Overseas Education Specialist (M) Sdn Bhd -
Jalan Burma, Georgetown, 10350 George Town, Penang, Malaysia
---
Counsel and Advise students who intend to study overseas (related training will be provided)
Assist in identifying suitable colleges / universities and courses for the students
Assist in applications, accommodations, travel arrangement and visa applications
Liaise with students, parents, teachers and professional bodies
Liaise with colleagues and co-workers in the prestigious universities / colleges from Overseas
Job portfolio includes marketing, planning & execution of events, branding & promotional activities and many other national-level projects
Travel within Malaysia for promotional activities and events
Requirements:
Candidate must possess at least a Degree (in any discipline)
Fresh graduates are encouraged to apply as on-the-job training will be provided
Good command of English and Chinese (both written and spoken)
Skills required:
Strong interpersonal & communication skills
Must be analytical, resourceful, assertive, self-motivated, result oriented and passionate
Able to work independently with minimum supervision and a good team-player
Other requirements:
Possess a valid driving license and own a car, willing to travel as and when required (for promotional activities)
Willing to travel out of town or abroad to conduct education business
Closed pada 31 Januari 2018
Kekosongan lain dari ASA Overseas Education Specialist (M) Sdn Bhd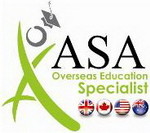 ASA Overseas Education Specialist (M) Sdn Bhd -
Kuala Lumpur, Penang, Selangor
01 Jan - 11:53 AM
Profil Syarikat
ASA Overseas Education Specialist (M) Sdn Bhd
ASA Overseas Education Specialist
is one of the leading Education Consultants based in Malaysia providing quality services to students who are keen in educational opportunities in the
United Kingdom, Australia, Canada & the U.S.A.
In line with the business expansion plan of the company, ASA's Offices in Malaysia (Penang, Petaling Jaya & Kota Kinabalu) now offers opportunities to qualified candidates to join our dynamic team. ONLY interested candidates who intend to establish a career in the RECESSION-PROOF Education Industry need to apply.
If you are seeking a career in an Organization with great potential to grow, hoping to join a young, energetic and enthusiastic team, looking for a great working environment, finding opportunities to further develop yourself, you will find ASA the right Organization for you!  
Mengapa bergabung dengan kami?
ASA is an organisation that focuses on education and training of staff members, the Management believes that every staff member should have a platform for self-development and career advancement.  Successful staff members that show great potential will be given Overseas Induction Training (in the UK, Australia, Canada or the U.S.A) to improve their exposures.  Based on the nature of business, staff members have good opportunity to improve on communication skills, widen their knowledge in marketing and branding, coordination and execution of projects or events.
 
We also offer attractive remuneration package and welfare to staff members.  An average performing staff should expect to get increment and bonus every year.  An outstanding performing staff should expect an increment and bonus above the industrial trend every year.  We have not failed to declare bonus and increment in the past 10 years. 
If you are someone who are motivated, enjoys cultural exchange, learn about working with people from other countries, and learn about how to deal with people from different age groups / education level.  This will be a right team for you to join.